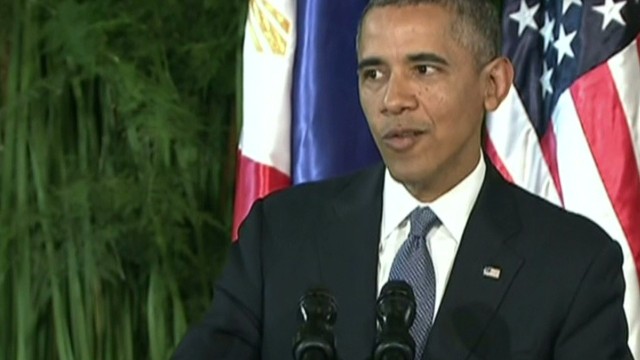 Russia is expected to face new sanctions Monday for its actions in Ukraine, President Barack Obama told reporters in Manila, Philippines.
"The sanctions build on the ones that were already in place. We're moving forward with expanded list of individuals," he said.
The move, Obama said, was to spur Russian President Vladmir Putin to "walk the walk not just talk to talk" in resolving the crisis in Ukraine.
If the latest round of sanctions don't work, the next phase could target sectors like banking, Obama said.
The European Union also is expected to impose sanctions Monday on about 15 Russian officials who are believed to be undermining democracy and creating chaos in Ukraine, according to Western diplomats.
The sanctions will include asset freezes and travel bans.
The EU is not expected to impose sanctions on Putin associates in part because the European judiciary system has a much higher bar in terms of applying the law, the diplomats said.
Judges are not able to look at intelligence to sign off on the sanctions, they said. One Western diplomat said there was also some division within the EU as to whether sanctions against Putin's cronies should be imposed.
Several European countries are also concerned their economic interests would be greatly affected with such sanctions. Additionally, some countries feel more space should be given to diplomacy before such measures are considered, the diplomat said.
Neither the United States nor EU is ready to impose sanctions on Russian industries, like the energy sector, both U.S. officials and Western diplomats said.